SkyCaddie Golf GPS System

The SkyCaddie is a small handheld device that gives you your exact position based on modern satellite technology called GPS or global positioning system. For a Golfer this means that this device can tell you exactly how many yards you have to the front, center and back of the green - from any spot on the fairway. You just pick your club for this particular distance and hit it, that's it - more on this below.

The SkyCaddie comes with on online database of over 11,000 courses (and rising daily), most of which are in the continental USA. All you need to do is register your new gadget online (costs $29.95 per year), search for your course and download it onto the device. You're ready to go.

What if my course is not on the list?

I live in a location outside North America, so I figured this may be a problem. Only one course I normally play is listed, but all others I play were not. We tested the SkyCaddie SG2, so fortunately this is not an issue as I can easily add new course info myself: first I need to give the new course entry a name (otherwise it's just 'MYCOURSE 1' for my first entry). Then, while playing the course, I just have to stand still for 5 sec at the front, back and center of each green and press a button, that's it. I do that for all 18 greens and, tadaaa, I have a new course programmed, ready for my next game. In addition it is also possible to add info about hazards like bunkers as well.

You could do easily the same in case your course is not one of the over 11,000+ already available. If you want to be a nice person you can upload the data into the main SkyCaddie database, so other players can use it, too. I've been doing this, so my buddies don't have to input the info manually (I'm such a nice guy...). By the way, if you share your info by uploading it you can easily recover your courses in case you loose your SkyCaddie - another bonus for sharing your info.

So, is it useful or not?

In my eyes the main advantage of using the SkyCaddie comes when playing within 150 yards or so from the pin. Most courses just show markers for 100 yards and 50 yards, and it takes some guesswork to pick the right club and swing tempo. It causes quite some uncertainty if you don't know whether your are 95 or 80 yards from the hole, especially on a broad fairway. The SkyCaddie give you the required info down to the yard, so you can pick the correct iron or wedge and get the ball close to the pin. This has helped me to shave at least a few strokes of my game, and it gets better every round as I get to know my irons more precisely.

There is also no delay in the game, you just walk to your ball, look at the SkyCaddie display and hit the ball. No more time wasting by guessing the distance and which club to use. There is also no line of sight required as compared to 'old fashioned' laser range finders.

Choices, choices - which one should I get?

Which model to choose: The SkyCaddie SG2 model remains to be well sought after, and it's price just got reduced from about $350 to about $280. This is a very user friendly and compact model and has everything you could possibly want, so that's the model we went for in our test. There is also the SG3 at $300 as well as the SG4 for about $350 which we found overpriced. We think the extra features are not worth the additional money, so our recommendations are with the SG2 or SG3, depending which design you like more. The SG2 has the antenna sticking out but is overall smaller than the SG3. I personally like the smaller size of the SkyCaddie SG2, but that's just me. I've put some pictures below for you to compare.


Some additional info on the individual models

Please click the pictures for more details: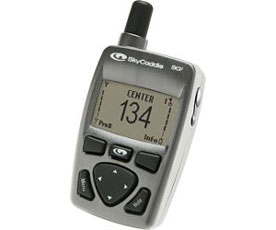 SkyCaddie SG1 : The SG1 is ideal for the Occasional Golfer who prefers the simplicity of having the distance to the green from anywhere on the hole.Itís based on the same advanced SG2 technology and thus enjoys the same accuracy and reliability of the SG2, but without some of its more advanced features.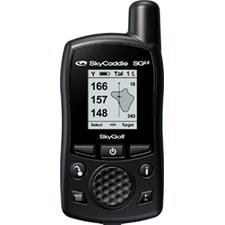 SkyCaddie SG2 : The SkyCaddie SG2, powered by SkyGolf's advanced SG2 technology, gives you the same information that a Pro would receive from a top PGA TOUR Caddie all in the palm of your hand. The SkyCaddie was chosen by the PGA Learning Center and is the FIRST electronic measuring device approved for use during the Adams Golf Tight Lies Tour! With the SkyCaddie s powerful GPS auto-targeting, you'll get the absolute best course and distance information at your fingertips in seconds, anytime and anywhere on the golf course. And you don't need a clear line of sight or reflective targets the SkyCaddie measures over hills and around obstacles. It calculates yardages up to 40 targets per hole in less than a second, automatically! No aiming, no missing.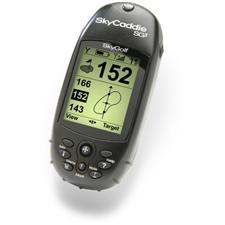 SkyCaddie SG3 : The SkyCaddie SG3 is the ideal product for Traveling Golfers, thanks to its durable shell and two AA batteries which eliminate the need for carrying chargers and cables while traveling. The SG3 is fully-featured and has a large, grayscale screen which displays distances to the green from anywhere on the course, as well as all targets and hazards on each fairway in large numbers. The SG3 includes the same advanced features of the SG2, including SkyGolf s patented IntelliGreen technology enabling golfers to measure the full depth of the green from any angle of approach, both on or off the fairway.






SkyCaddie SG4 : The SkyCaddie SG4 is for Avid Golfers who require a SkyCaddie with advanced features, a larger display and a long-lasting rechargeable battery. The SG4 includes SkyGolf s patented IntelliGreen technology enabling golfers to measure the full depth of the green from any angle of approach and shows distances for all targets and hazards on any of SkyGolf s 11,000 professionally mapped courses.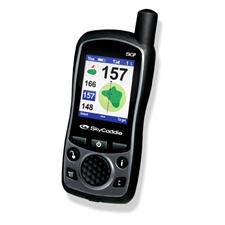 SkyCaddie SG5 : The SG5 is for golfers who want a SkyCaddie with advanced features, a large color display and a long-lasting rechargeable battery. SkyGolf's advanced GPS technology is integrated with the very best Swiss engineering to provide unmatched reliability. The SG5 includes SkyGolf's patented IntelliGreen technology, enabling golfers to measure the full depth and shape of the green from any angle of approach and shows distances for all targets and hazards on any of SkyGolf's many thousands of professionally mapped courses. Its vibrant color display features automatic backlighting to ensure easy readability indoors and outdoors.
Product details are here:
SkyCaddie Golf GPS System
Player's feedback and comments
The unit downloaded courses easily. The GPS signal picked up almost immediately at the first hole. Distances seem very accurate. It couldn't be much easier to use.
John, Tennessee
No problems at all with this GPS. Software runs fine. You might have trouble if you have limited computer experience. I kept the GPS in my pocket with the antenna up and it never lost it's signal. No need for a color screen - save some $$$$. Either way it is the same distance to the hole.
Grant, Sheldon, Iowa
Related Resources